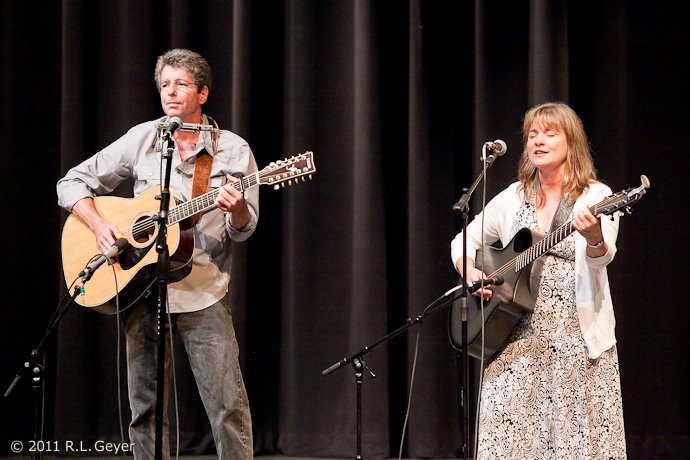 ---
Jayne is currently forming a new duo with Steve Russell, a Carolina-based singer-songwriter and finger-style guitarist. Jayne and Steve met in the Great Smoky Mountains of North Carolina in contemporary folk songwriting classes at the Swannanoa Gathering, and quickly discovered that they were musical kindred spirits.  Raised on radio hits by the Beatles, the Everly Brothers and James Taylor and later steeped in acoustic roots influences like the Carter Family, David Wilcox and John Prine; their musical collaboration reflects all of these.  Their original songs showcase their love of beautifully blended close harmony, thought-provoking lyrics and a wide range of irresistible grooves from the soft intimacy of a lullaby to high-voltage rockin' blues.  
Steve's uniquely rhythmic and dynamic finger-style acoustic guitar muscle shines in a multiplicity of tunings.  His soulful lead playing is accented with raw and plaintive harmonica.  He spent much of the 70's and 80's touring in folk-rock trios all over the southeastern US.  Highlights included sharing the stage with Johnny Cash, Glenn Campbell and Alabama at the Carolina Country Jamboree and the Russell Brothers being voted one of the all-time favorite local bands in Myrtle Beach.   Since those days Steve has performed solo at resorts from Hilton Head to the Rocky Mountains and enjoys regular appearances with Singer-Songwriter Phyllis Tannerfrye and the Southern Cross Trio.  
   
Jayne's rock-steady right hand is happily employed on rhythm guitar, ukulele and bass, but she considers her voice to be her primary instrument. Together, Jayne and Steve provide a beautifully varied repertoire of tight two-part harmony and interlaced acoustic guitars. 
---